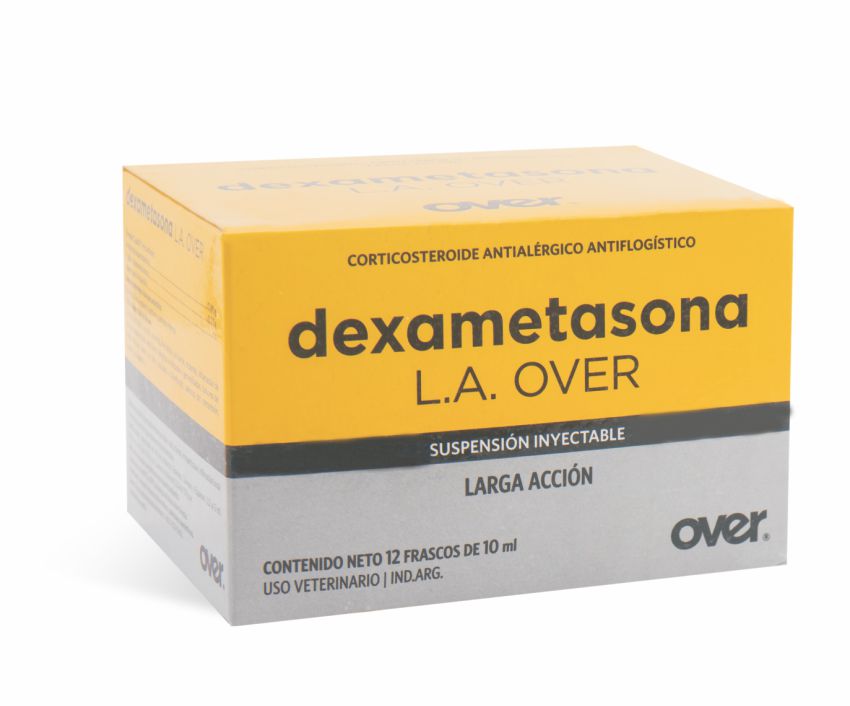 Corticosteroid. Antiallergic. Antiphlogistic.
Description:
Corticosteroid. Antiallergic. Antiphlogistic.
Formula:
Every 100 ml, it contains:
Dexamethasone acetate .0.8 g
Dexamethasone phosphate 0.2 g
Formulation agents q.s.
Indications:
Treatment of arthritis, tendinitis, bursitis, synovitis, dermatitis, urticaria, eczemas, respiratory tract inflammation, localized or generalized allergic reactions, lymphoid tissue tumors, udder edema (associated with diuretics), compression paresis, neuritis and polyneuritis.
Animal species to which it is intended:
Cattle, sheep, horses, swine, dogs and cats.
Administration:
By intramuscular, subcutaneous or intra-articular route or local infiltration.
Dosage:
Cattle, sheep and horses: 2.5 to 5 ml. Swine: 1 to 1.5 ml every 100 k.l.w. Dogs and cats: 0.25 ml every 10 k.l.w.
Presentation:
Box containing 12 vials with 10 ml each. Vial containing 50 ml.