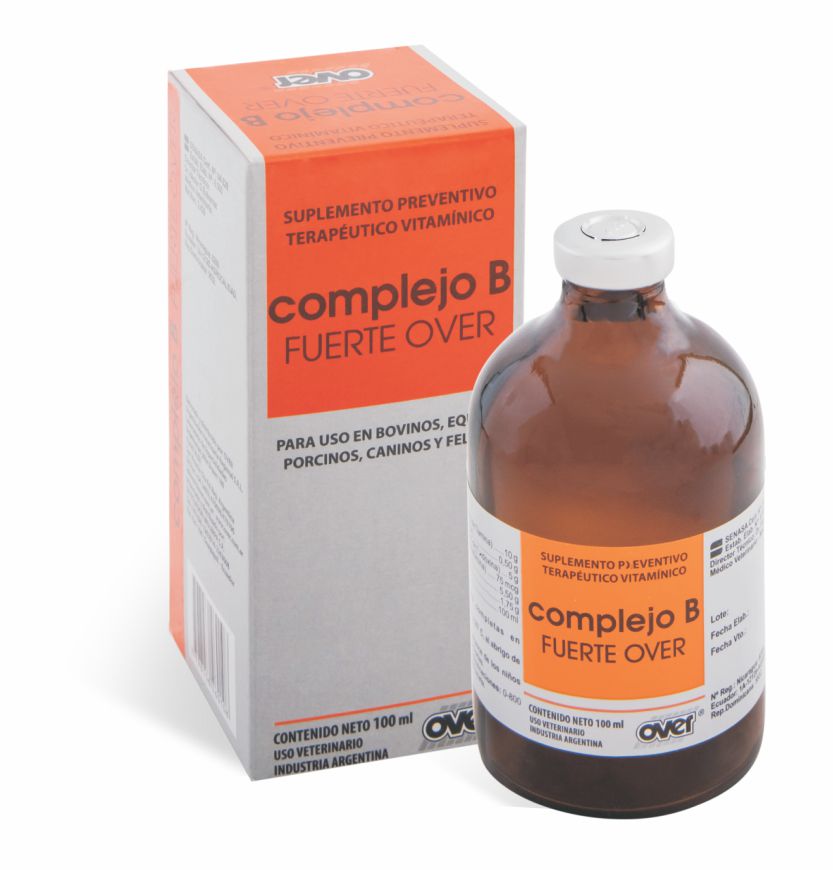 Preventive and therapeutic vitaminic supplement.
Description:
Preventive and therapeutic vitaminic supplement.
Formula:
Every 100 ml, it contains:
Vitamin B1 10 g
Vitamin B2 0.5 g
Vitamin B6 5 g
Vitamin B12 75 mcg
Nicotinamide 5.5 g
Calcium Pantothenate 1.75 g
Formulation agents q.s.
Indications:
Cattle: Coadjuvant in the recovery of anaplasmosis and/or piroplasmosis cases. Horses: Weakness, exhaustion due to overtraining, loss of appetite, deficiency states and diet reinforcement. Swine, dogs and cats: It encourages the recovery in case of anemia produced by deficiencies, hemorrhages and/or parasitic diseases.
Animal species to which it is intended:
Cattle, horses, swine, dogs and cats.
Administration:
Adult cattle, horses and swine: By intramuscular route. Piglets, dogs and cats: By intramuscular or subcutaneous route.
Dosage:
Cattle: 5 to 10 ml. Horses: 5 ml. Adult swine: 1 ml every 20 k.l.w. Piglets: 1 ml. Dogs and cats: 0.5 to 1 ml.
Presentation:
Vials containing 20, 50 or 100 ml.